Neviem, ako to Barbra z ILNP robí, no v každej kolekcii si nájdem hneď niekoľko lakov, ktoré nutne potrebujem.

Z tej poslednej zimno-slávnostnej som si "musela" z Nailland.hu objednať tri - Cherry Luxe, Juliette a My Private Rainbow (X). Dnes mám pre vás ten prvý spomínaný.


I really don't know how Barbra from ILNP does it but from each their collection I simply 'need' several polishes.

From the last two -Winter and Holiday collection I ordere three from Nailland.hu - Cherry Luxe, Juliette and My Private Rainbow (X). Today I will show you the first mentioned.




Celkom ma prekvapilo, že som sa rozhodla zrovna pre Cherry Luxe - kto ma trochu pozná, vie, že červené laky nie sú zrovna moja doména.

Pôvodne som chcela XO, čo je krásna fialová s rovnakým finišom so striebornými šupinkami, no fialových lakov mám za poslednú dobu dosť... Ach, tieto náročné kalkulácie :D


Even I was surprised that I actually chose Cherry Luxe - if you know me a little bit you know I'm not very crazy about red polishes.

Originally I wanted XO which is beautiful purple with same finish with silver flakies but recently I bought few purple polishes... Ugh, all those hard decisions... :D




Nakoniec ma na Cherry Luxe zlákala Cait z Polish Hound a jej krásne swatche. Na jej fotkách vyzerala ako čerešňový džem (prekvapivé, že? :)). Jemne tlmená červená, s kvapkou ružovej. Nazvala by som ju aj malinovou, ak by sa nevolala Cherry :D


But then Cait from Polish Hound posted her swatches and I was trapped. On her photos Cherry Luxe looked like cherry jam (obviously heh). Slightly muted red with drop of pink. I would call it raspberry but her name is Cherry so... :D




Cherry Luxe patrí do radu lakov s trademarkovým finišom značky ILNP - tzv Ultra Metallics. To kvôli tým strieborným úlomkom.


Cherry Luxe belongs to line of ILNP's polishes with distinctive Ultra Metallics finish. Because of those silver flakies.




Okrem toho lak už tradične obsahuje veľké množstvo holografických čiastočiek. Jednoducho, neustále sa ligoce :) Plné krytie dosahuje už v dvoch vrstvách.

As usual the polish also contains tons of holographic particles. It just sparkles all the time under every light source :) It needs two coats for full opacity.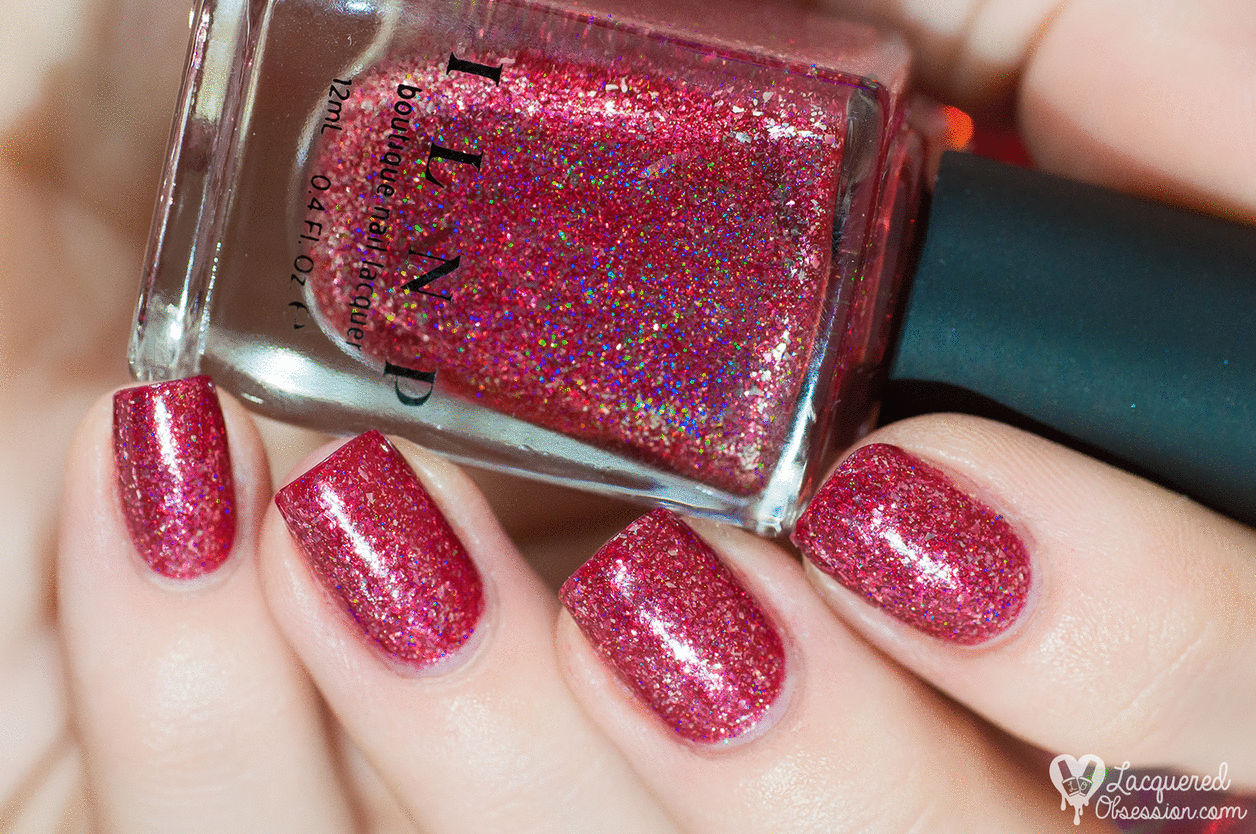 Dobré kúzlo však? Kiež by to s nail artom bolo vždy také jednoduché :D / Little bit of magic! Wouldn't it be great to do your nail art this way? :D
Cherry Luxe som hneď doplnila vzormi inšpirovanými vianočnými svetrami :) / I decorated Cherry Luxe with patterns inspired by Christmas sweaters :)
Všetko je maľované voľnou rukou, tenučkým štetcom a bielou akrylkou. Výhodou tejto metódy je, že ak sa vám nail art nepodarí, dá sa ľahko umyť. Prípadné nedokonalosti jemne "zoškrabkať" špáradlom ;)
The nail art is all freehanded using very fine nail art brush and white acrylic paint. Biggest advantage of using acrylic paint is you can wash it off if you mess something or just scratch off any mistakes with wooden toothpick ;)
Čo by to bol za vianočný nail art bez sobíka? :) / No Christmas nail art is complete without a reindeer! :)
Štetec
, ktorým som ornamenty maľovala je novinkou v mojej výbave a mám ho z
Born Pretty Store
. Hrúbka a dĺžka vlasu je ideálna aj na tie na tie najmenšie detaily. Maľuje sa mi s ním ako po masle.
The brush I used to paint the patterns is a new tool in my stash and I bought it from Born Pretty Store. The thickness and length of the hair is just perfect for tiny details. Really easy and comfortable to use.
A navyše rúčka je priehľadná a naplnená drobnými čírimi kryštálikmi. Kto by tomu odolal :)
And the handle is transparent and filled with small clear crystals. Who could resist! :)